Episode 3: Cycling to the 2015 Paris Climate Conference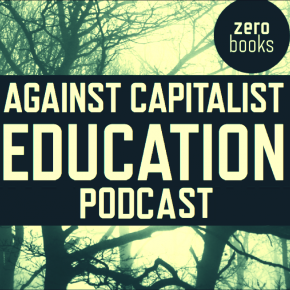 This podcast explores themes raised in Against Capitalist Education by Nadim Bakhshov published by Zero books.
My guest this week is the singer-songwriter, poet and environmental campaigner Chas Warlow. We talk about cycling from London to Paris to raise awareness of environmental issues at the 2015 Paris Climate Conference. This leads us into a conversation on the ideological dimension of debates around transport, especially the 'car' – and the poverty of effort in developing sustainable alternative transport infrastructures. We go on to discuss the importance of local environmental initiatives and how the accumulation and surplus of capital, in large corporations, too easily undermines the role of democratic representation and the wishes of a local community.
This is the first part of a two part conversation.
This is conversation worth listening to. ~ Peter Lato, CEO of Shovian Analytics
This podcast was built with kind support of Doug Lain and Zero books with music created by Nadim Bakhshov and readings given by Doug Lain and Chas Warlow. And thanks to Ashley Whitear for all his generous technical support.
Podcast: Play in new window | Download (72.0MB) | Embed
Subscribe: Android | Email | RSS
March 12, 2016